In the ten plus years that I've been working, I've experienced dramatic changes in how I work. I used to travel to an office, wasting an hour commuting each way. Now, I can do everything I want in a coffee shop in the middle of the Alps.
It's a bit crazy because I think that I am cheating. I'm reaping the benefits because I can spend a lot more time focused on my mission: making an impact in the world with my Catholic faith. Plus, when I am done working, I can immediately do something I enjoy, rather than spend another hour in a car or public transportation commuting home.
My father drove one hour each morning, and then another hour in the evening to work. He did this for 30 plus years. I don't anymore.
Nor should you.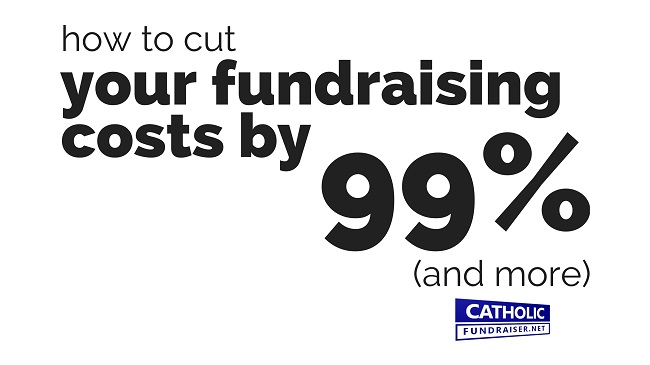 The way we work is changing, and one of the biggest benefits of this shift is the costs of working are reducing significantly. This is great news for Catholic charities because you can dramatically reduce your fundraising costs. There is another benefit to the change: donors are more attracted to you when you can say, "Hey, we don't spend a dime on fundraising!"
Here are five ways you can reduce your fundraising costs and attract more donors to your work.
Catholics love charities who maximize efficiency and reduce unnecessary expenditures. I have found that when you cut the costs and tell them how you are doing it, people donate more.
1. Paper – Go digital with your communications. More and more people are using the internet to do their day to day activities. This includes accessing content online to stay up to date with what's going on with the world.

For your donors who pay online, you can ask them if they want to receive all their communications online. For those who pay via check and cash, you can ask if they'd be happy to do the shift.

2. Printing – You can cut huge costs by not printing as much. By sending your content digitally, it costs you the same amount (almost nothing) to send 100 copies as it does to 100,000. Remember the feeling of printing 1,000 flyers and then recognizing you go the date wrong. Well, with online content, you just have to refresh the page or send another email.

3. Postage and envelopes – Email and social media have introduced a low-cost revolution for sending messages to your followers, donors, prospects, and partners. Again, sending content costs almost nothing compared to the option of emailing your messages.

Here's another massive upside to going digital. With the amount of time and money you are saving, you can focus more attention on posting handwritten, individualized thank you letters to certain people.

4. Staff – Most fundraising tasks can be automated by software.

Payments are processed through online gateways such as PayPal and Stripe. Designing and publishing newsletters are done with free and easy-to-use software such as Canva. Sending messages and updates to donors is done instantaneously with email services such as Aweber and Mailchimp. Relationship Management software like Salesforce (Charity Edition is free) and InfusionSoft manage all your interactions with donors and prospects.

These tools save you hours of work and more importantly, they help you build stronger relationships with people. You no longer have to treat everyone the same by sending costly and generic newsletters and donation forms in the post. A staff of 5 to 10 people can now be reduced to 1 person with a few software subscriptions.

5. Office space – You also don't even need an office anymore. Just a laptop, internet connection, and mobile phone. You don't have to have a room or hallway filled with filing cabinets of the donation forms, newsletters, and leaflets. All your information is safely stored and organized digitally for a fraction of the price.
Conclusion – Seize these opportunities today
Catholics are looking for charities that are reducing their fundraising costs. By doing just this, you will differentiate yourself from all the other charities and get a lot more attention. As a result, you will get more donations.
The digital age is a prime moment for anyone who wants to take the leap and learn. The rewards outweigh the learning curve by miles.
Question: How can you reduce your fundraising costs today? (leave your comment below)
NOT SUBSCRIBED TO RECEIVE THE WEEKLY CONTENT? FIX THAT! IT'S COMPLETELY FREE.